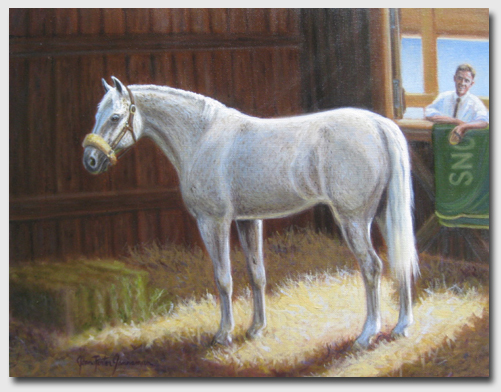 "Snowman and Harry"
14 x 18, Oil on Linen
There is renewed excitement over the timeless story of Snowman and Harry de Leyer. The bestselling book "The Eighty Dollar Champion, The Horse That Inspired a Nation" by Elizabeth Letts has introduced this uplifting story to a whole new generation. In keeping with this new stage of a wonderful story, Joan Porter Jannaman has created this new painting to honor both the memory of Snowman and his best friend, Harry de Leyer. Harry is now 86 years old and still going out to the barn everyday working with his beloved horses. When Mr. de Leyer saw a photo of the painting in its final stages, he said the following:

"It brought tears to my eyes…you got the slope of his shoulder that made him such a good jumper…and his eyes…they are perfect…the soft eyes that I first noticed about him…it is exactly Snowman"

It has been an honor to work on this project for the Kentucky Horse Park and the International Museum of the Horse. This oil painting will hang in its permanent collection.

Click on this link to download an order form for limited edition giclee prints of "Snowman and Harry". 100% of the proceeds in sales from this giclee print edition of 250 will be divided between the Kentucky Equine Humane Center and The Kentucky Horse Park Foundation.
All material on this website is protected under Copyright, 2006-2013, by Joan P. Jannaman.
Images may not be reproduced without permission from the artist.
All Rights Reserved.